Welcome to 31 Days of Halloween 2014- Rules and Regs
Yay! It has begun! Welcome to the sixth annual 31 Days of Halloween Blog Hop hosted by
Smeared Ink
and the
Smeared and Smudged Forum
. We are so excited to be bringing you one fantastic month long event! There is a whole lot of information to share with you, so please bear with me as I go over everything.
First off, if you haven't experienced 31 Days of Halloween before, you are definitely in for a wild ride! Each year at the S&S Forum, we challenge our members to sign up to be what we call a Wicked Blogger. They will share with you one awe-inspiring Halloween or Day of the Dead themed project for the whole month of October, and each year we are thrilled with the variety and talent that is showcased by our Bloggers.
The Wicked Bloggers will have their project posts up each day by 9am PST (Pacific Standard Time) for you to peruse, and to reward them for their hard work and stress (believe me, it's stressful!) any Wicked Blogger who completes all 31 days of posts on time will be entered into our grand prize drawing at the end of the month.
Here's a sneaky-peeky at the grand prize from Smeared Ink.
*click for larger view


The prize pack includes:
3 Smeared Ink Rubber Stamp Sets of winner's choice
$25 Smeared Ink Digi Package of winner's choice
Smeared Ink Octopus Pie Fleece Throw Blanket (50" x 60")
Smeared Ink Suck It Up Yellow Messenger Bag
Tim Holtz District Market Numeric Burlap Panels
3 Tim Holtz Distress Spray Stains (winner's color choice)
7Gypsies Wicked Gypsy Large Ephemera Pack
Mystery Grab Bag with $30 worth of Awesome Crafting Odds and Ends
Isn't it awesome? There is over $300 worth of amazing stuff in there. But guess what...even if you are not a Wicked Blogger, YOU still have the chance to be entered into our grand prize drawing! You can participate as a Horrifying Hopper this month and have a chance to win.
Here's how it works: As a Horrifying Hopper you must hop through each and every blog on our blog roll and leave a comment on each project. Our Blog Roll is 39 people long, so it's definitely a challenge. If you leave a comment on every blog every day for the entire month, you will be entered into the drawing at the end of the month. It's a big commitment, just like the Bloggers, but well worth it since you get to view all of the outstanding artwork each day!
Just like with the bloggers, all Horrifying Hopper comments must be posted by 9am PST. So if a post goes live at 9am, you have until 9am the following day to get your comment posted. And don't forget, the Wicked Bloggers have until 9am to get their posts up, so if you are an early hopper you may need to come back after 9am PST to see all the projects.
I know some of you are saying to yourself "I can't possibly commit to that all month long". Well, don't fret, because we have even MORE ways for you to win some impressive prizes! Each year we hold a scavenger hunt with prizes from some pretty amazing sponsors. Our 31 Days visitors, or what we lovingly refer to as our Sinister Lurkers, our Horrifying Hoppers, and our Wicked Bloggers all have the chance to participate in the Scavenger Hunt.
Each day one of our Wicked Bloggers will be hiding a tiny image on their blog. We will give you a clue about the image, and you get to find it. When you do, just
EMAIL US
it's location. Everyone who enters will be put into that day's drawing to win one of the sponsor prizes, and we will announce the winner the following day. Easy Peasy! All guesses must be received by 9am PST the following morning.
So, there you have it, all of the rules and regs for 31 Days of Halloween. Be sure to refer back to them if you need to, enjoy the scavenger hunt and amazing sponsors, and above all, have fun!!
Here's the Wicked Blog Roll: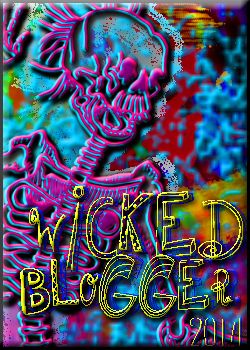 Terra
Black Dragon
Lyneen
Maureen
Rebecca
Julia
Lisa
Teresa
Keren
Renee
Alison
De-stempelwinkel Designers Blog
Jane
The Nanny (Sue)
Sarah
Leslierahye
Jessica
Kelli
Karen
Airless Chambers
Sara
Kapree
Shoni
Altered Pages
Shell
Art Jypsy
Alex
Dreamweavers Stencils DT
Kim
Nanette
Erin
Susan
Creepy Glowbugg
DominoART
Steph
Sandy
Sarah
Stefanie
Barbara